Rodney Winder form the great state of Texas a retired Design Engineer has applied his former skills to his new ambition, a 2002 C5 coupe. Rodney named his C5 "Baby". Rodney installed a rear spoiler and a custom exhaust plate on his C5. He told us that the plate is a bit crooked and he likes it that way as it gives the car some extra attitude on the street. A dual snorkel Cold Air Intake system was installed to allow for some deep LS-1 breathing.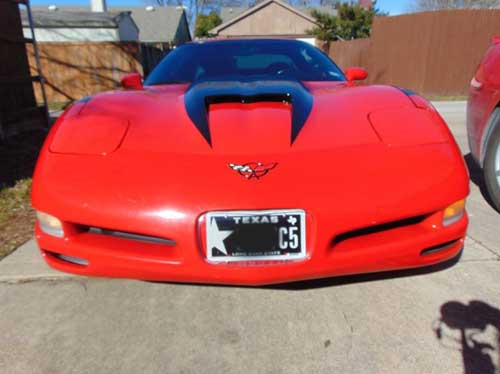 Rodney told us that he has always loved the original Stingray branding. With the Stingray in mind he adorned Baby with custom made emblems as well. He installed the emblems aft so as not to copy the look of the C7.



Now Baby is the Stingray. that he always wanted. Some people find it outlandish, but Rodney says the look is great and makes his C5 unique. Rodney painted a set of stripes and blacked out the rear area above the exhaust outlets.

He says that this look seems to be the current trend with automotive designers.Rodney has been retired from his former life of engineering and design since 2002. Rodney now devotes his efforts to the advancement of his hobby, which is art. His professional name is "Rodster'" and his art can be seen by simply "Googling" Rodster Art.
The Vette Nuts

return to index page