Military Grade Supercharged C7



Carlos Brito is an Army Vet that spent his life defending our nation. He spent fifteen of those year at the Pentagon and survived that fate-full day on September 11th 2001. Carlos tells us that he loves the Corvette and car scene because it is a common denominator that brings people together regardless of race, religion or background. Corvette people are in a unique position as they have an almost instant common bond with each other.




Erick's toy is a 2014 velocity yellow C7 that was equipped with the factory Z51 performance package. Factory performance was not nearly enough for Carlos. The C7 is currently pushing out over 710 WHP and 640 TQ on a stock bottom end thanks to some nasty little mods.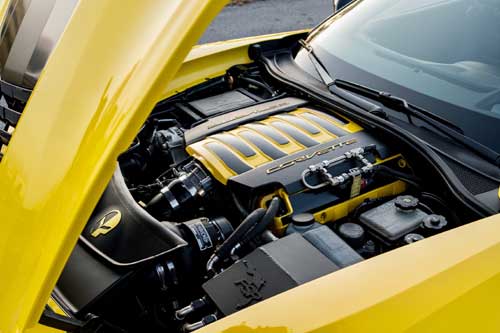 The mods to this modern day rod includes an ECS Supercharger kit with 3.7 pulley,
a Fasterproms E85 flex fuel and Alky Control dual nozzle meth kit. A 170 degree thermostat, ported throttle body, MGW short throw shifter and Vitesse Throttle Controller help. A K&N Air Filter, 2" long tube headers with a 3" X-pipe move the exhaust to the rear. A set of 255/335 Cup2 tires transmit all of those horses to the ground.


Carlos's C7 is not only all "go', the car has a lot of "show" built into it. The body mods include a high tech G3 Carbon splitter, rockers, rear diffuser, and carbon fiber spoiler. An ACS wide body kit, Z06 grille and spats, Oracle LED Side Markers, Xpel front end, black wrap and eyelids by Redline Design update the C7. An airbrushed hood liner by Big Boy Airbrushing shows off Carlos's military inspired redesign. The C7 is Erick's third Corvette.



Like so many of us family and career placed his high performance dreams on hold until life calmed down a bit. Carlos's C7 sees duty as daily driver and on the track. His best quarter mile time of 10.39@134, 154 mph on the half-mile and his best lap at Palm Beach international was 1.26 with a backstretch speed of 155. That my friends makes for a very interesting street car.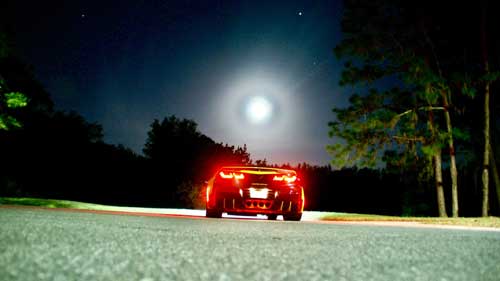 Carlos spends his spare time running the Central Florida Corvette club and of course modifying his C7 with the help of family and friends.

return to index page