Anthony Bowling is the President of the TrendSettas Corvette Club in Flint Mi. He is also the Central Region Director of the United Counsel of Corvettes Clubs. Anthony's love for America's sports car is home grown as his first three Corvettes were built in his home town of Flint Michigan. Over the years Anthony has owned three Corvettes but the this C5 has proved to be his favorite.

Anthony purchased his C5 in October of 1998 and attended his first Corvette show that following summer. There were many Corvettes at the show but none of them really stood out. Anthony decided that he had to do something to set his car apart from the rest.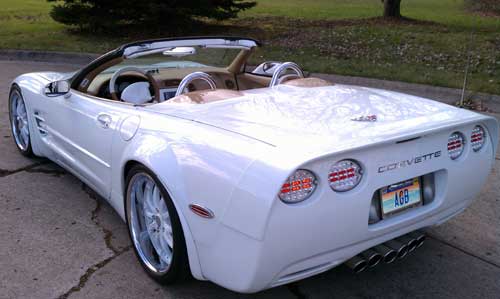 Over the last twelve years Anthony has made many modifications to his C5. The mods include custom stainless steel engine over lays. The car also sports a custom hood with a faded stripe to match the interior.

Interior modifications include a redesigned custom fiber glass console built to wrap around a seven inch navigation system with that is hooked up to a custom back up camera. The seats, dash, instrument panel, door panels, brake/shift boot and floor mats are color coded to match the cars exterior. The custom roll bars give the C5 a sleek Euro look.

After installing the 20" ZNCC wheels Anthony lowered the car to compliment the new look. The exhaust exists through six functioning tail pipes, very interesting and definitely adds to the cars "wow" factor.