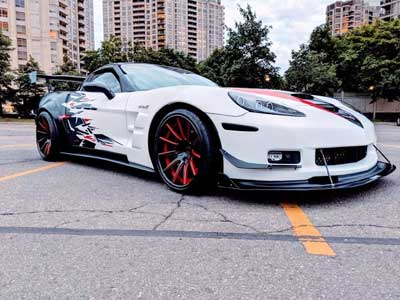 Northern Z



Bobby Mazarpour from Toronto I purchased his 07 C6 Z06 in 2011,. The car was essentially brand new with only 600 miles on the odo. Bobby has always been a car enthusiast but finally decided to buy a sports cars at the old ripe age of 42. The first mod Bobby did on the car was to custom powder coat the rims black, that started the his disease known as the "mod bug" that so many Corvette owners are afflicted with. Everything in the car excluding the doors and the roof/trunk lid are either modified or upgraded. The list of mods is truly overwhelming.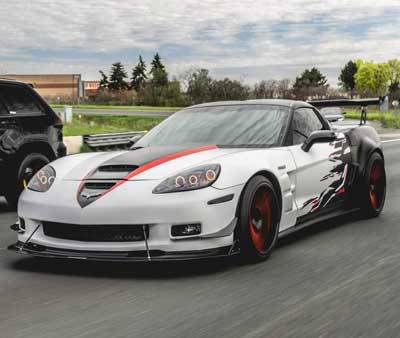 The cars first first major mod was a wide body kit which Bobby ordered from a Florida supplier. He tells us it was a real challenge fitting the new body panels on the car. The conversion took over a month to complete. Custom side view mirrors, canards, an extreme carbon splitter with CF rods and a wild carbon 76" inch APR wing complete the look.

After the body was finished Bobby focused his attention on the engine. Bobby started the project by installing a set of long tube headers and as revamped exhaust system. The engine was completely overhauled with forged internals. The power of the LS7 pushed the envelope with a Pro-Charger blower. The result is an outstanding 1,400 HP. An 8 ribbed tensioner enables the engine to consume a very healthy 12.5 lbs of boost.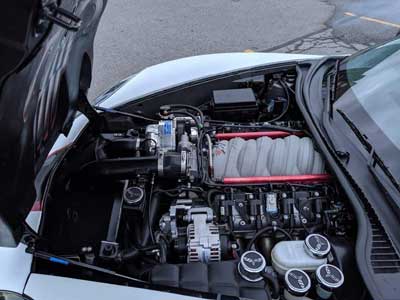 The list of engine mods is as follows:
Fully built 427ci motor with forged pistons. Dual meth jets, beefed up diff to handle 1400whp, brand new Tremec TR6060 tranny, Fast Lsx intake, ported TB, Kools long tube headers, Borla S-Type a de-catted exhaust and a Cam Motion cam.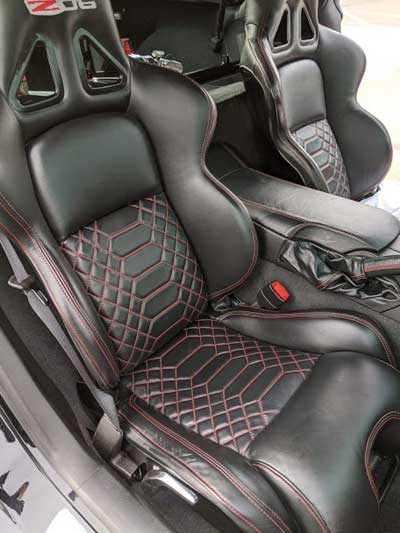 The interior is a totally customized design by Caravaggio Corvette in Toronto.
The car is shod with a custom set of 3 piece forged Velos deep concave rims, Custom headlights show the way on this wild Z. A set of slotted rotors with one piece ceramic brake pads help bring this beast to a halt. LG GT2 coil-overs help keep the big Z car firmly planted to the pavement.



Bobby founded GTA Motor-heads car club back in 2013 . The club includes a wide variety of cars. One member of Bobby's club claims to have the fastest Supra MKIV in Canada, which ran the 1/4 mile in 7.8 sec.Bobby's car has won best of show two years in a row at Toronto Driven show
return to index page