Beth Rogers -Vette Girl of the Month

T

his issues Vette Girl of the month is Beth Rogers from North Carolina. Beth drives a stunning all black 2002 C5 coup. The C5 is one of several that she has owned over the years. Beth's C5 is basically stock except for a modified exhaust, new interior leather, and Targa top. The car is also equipped with a 6 speed manual gear box and a set of very nice Foose designed 20" rims.




Beth's radiant face lights up when she cranks her Black Beauty to life. The sound of the modded exhaust really brings out her love for Corvettes. Beths love for Corvettes stared at a very early age. A love that started, in Beth's own words '"when my daddy would call me his little Vette girl when at a young age I would ride and pretend to drive one of his Vettes".
Beth also uses her love for Corvettes to benefit numerous charities that include help for veterans, cancer survivors and those with multiple sclerosis. Modeling is nothing new to Beth, as she has worked benefits and charities in the past, something that she will continue to do.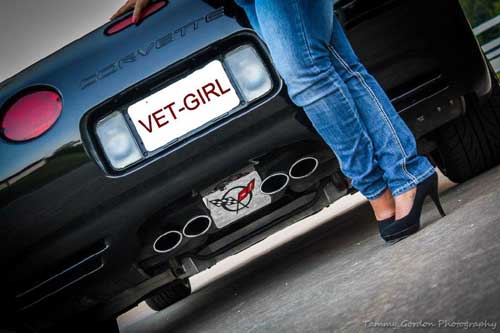 Anyone looking at Beth and her Black Beauty can easily see that not even a single day passes without Beth receiving numerous compliments.

The Vette Nuts

return to index page