The "Night Stalker" C5

Larry Barrios is a Corvette fanatic that hails from the great state of Louisiana.His latest creation was prompted by the loss of his home
and two custom C5's in the 2015 floods that ravaged Baton Rouge and other Southern Louisiana towns in 2015.
One of those lost treasures was an 02 show wining custom C5 that was featured in Corvette Web Magazine.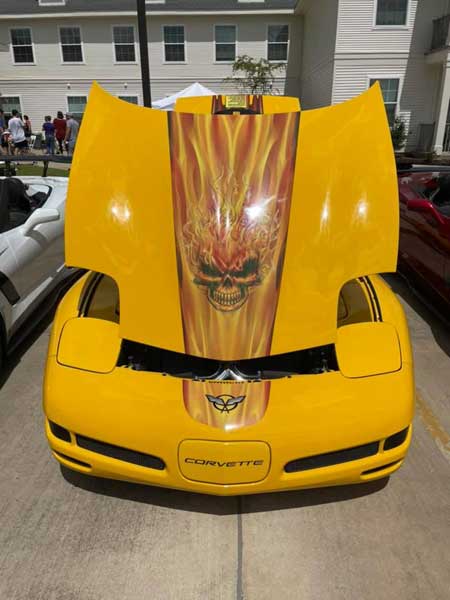 Larry's latest creation is a 02 Custom Corvette Coupe that he named "The Night Stalker".
The C5 is adorned in a very eye catching shade of Millennium Yellow . The paint is accented with Flaming Skull graphicsand a custom yellow and black leather interior.
The original C5 wheels have been powder coated yellow and finished with black graphics.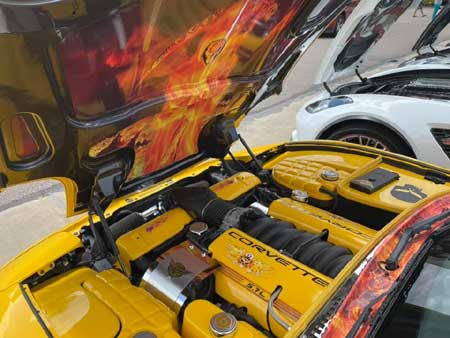 The original LS1 power plant was given a mild boost with a set of BBK short tube headers a Magna Flow competition exhaust and a dual flow CAI system.
The cars PC was given a custom tune that in Larry's words "really woke that LS1 up".
A set of Z06 sized Mickey Thompson performance tires help get the new found power to the ground.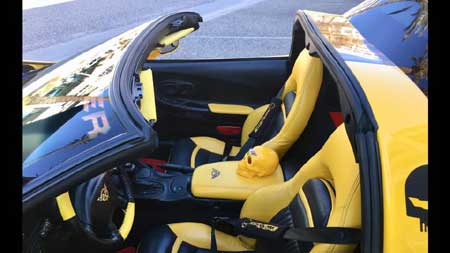 Larry tells us that he considers himself lucky that the car has been very popular with spectators at the shows he has attended. He has entered the
"Night Stalker" in both small charity shows as well as in mega venues like the World of Wheels show.
Larry has won more than his fair share of awards and he really enjoys showing the car off.
At a very young 67 years old Larry tells us it isn't as easy as it used to be but he still holds his own against the younger crowd.
Larry has also served on the Board of Directors in the Baton Rouge Corvette Club for over 10 years.
return to index page