Javier Barragan was bitten by the "Mod Bug" four years ago when he took possession of an 09 C6 Z06. Javier say it was just your basic factory stock Z06. That is an understatement as even in pure stock form the C6 Z06 has proven itself as a force to be reckoned with.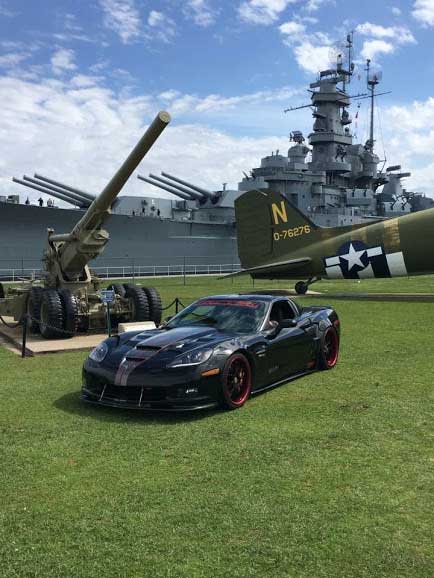 At a tad over 3,100 pounds the 505 horse C6 "Z" has a very enviable weight to power ratio. Theses days the streets are crowded with many factory 600 plus horse powered cars. Most of these supercharged wonder cars are over weight and their owners can often be seen scratching their heads when they get dusted by a stock C6 Z.



Javier not being satisfied with what the General provided decided to take a ride on the mod train. He has done a lot of modifications to make it not only a winner on the show circuit but also a winner on the street. Extensive modifications to the naturally aspirated LS7 has put Javier's "Z" in the 600 plus horse power club. The car still only weighs in at only 3,100 pounds making it a true force of nature.


In addition to the power upgrades Javier wanted his "Z" to have a truly unique appearance that would "wow' the show circuit crowd. Along with the engine part mods Javier completely "blinged " out the engine bay with a very tastefully array of stainless and air brushed parts. A custom handmade hood that took over three months to fabricate adorns the front of the car.




The "Z's" Monstrous power is transferred to the ground via 345 25R 20 Toyo rubber mounted on a set of three piece forged wheels. A complete reworked racing suspension keeps the car planted to the pavement. Javier has taken his car to the next level and has many best in show trophies that attest to his efforts.
The Vette Nuts

return to index page