A Different Kind of Speed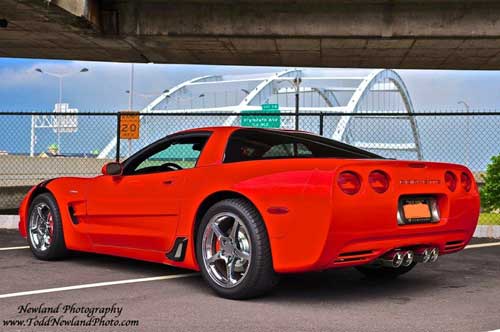 Anthony Mammano knows about speed. For the past sixteen years he has been building and modifying racing motorcycles at his shop in Rochester NY. His last motorcycle build project was a dropped stretched and chromed Suzuki GSXR 1000.
Anthony was looking for a different avenue to explore his natural need for speed. His venture into the automotive high performance world led him to a 99 C5. The car was in pristine condition and had only 63k miles on the odo. The C5 spent its earlier life as a mall show car and was hardly broken in.
Anthony's C5 sports a set stock sized rubber on latter GM chrome wheels. Stopping action is assisted via a set of GM drilled and slotted brake rotors and ceramic pads. GM torch red caliper covers add a finishing touch. The rear brakes are given the added cooling benefits of a set of ZO6 brake vents.
Performance mods include a chrome dual snorkel air intake, and a Billy Boat exhaust system that alerts onlookers of the cars presence.
Exterior mods include a vinyl graphics body kit, Z06 fog screens, LS1 badges, smoked front signal covers and a hide away front license plate. Etched C5 lettering adorn both aft and stern. A chrome rear exhaust plate lets those left behind see themselves.
The engine has been treated to a set of painted torch red fuel rail covers, chrome manifold cover and various other dress up items.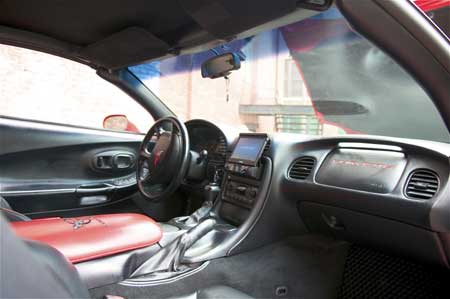 The interior has been upgraded to include a 7" touch screen-in dash cd/dvd player and lock deletes. A C5 flag console cover, Corvette seat belt pads, dashboard lettering and steering wheel flag logo, custom floor mats, and tinted windows finish the look.
We really like this car because it represents what the average Corvette guy is driving. And "driving" is the key word here. The 1,000 horse carbon fiber wonder cars are nice to look at but do not represent what the current street scene is all about. Anthony's C5 is a perfect mix of performance, and street versatility that makes for a usable modern day muscle car.
The Vette Nuts
Photography by: Todd Newland of Newland photography
Model: Cas Waloven.
return to index page