2000 C5 Custom Roadster


The C5 Corvette has until recently been an undervalued and underappreciated. This was the first generation to sport the legendary LS platform. When the C5 was in traduced in 1997 the Corvette world was presented with an entirely modern concept of what an American sports car should look and drive like. The bulletproof LS1 engine produced a respectable 345-350 hp and 350ft/lbs of torque. This was more than sufficient to propel the 3,100 pound C5 on its merry way.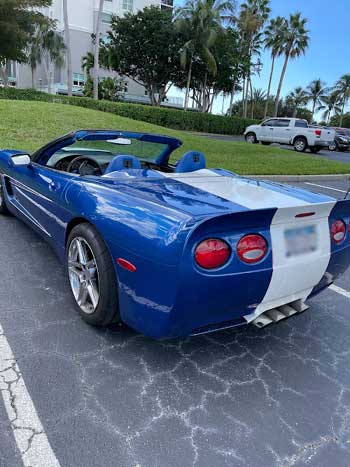 The low C5 prices over the past several years is really a testament to just how good this car really is. The C5's depressed valuation is a direct result of an over abundant supply. The C5 had a seven year run; out of that run 246,012 units were produced. The C5 is a victim of its own high standard of quality. For the first time ever GM mass produced a vehicle that was virtually flawless. The low resale prices can be credited to the fact that most of the C5's out of the 1997 to 2004 production run are still on the road.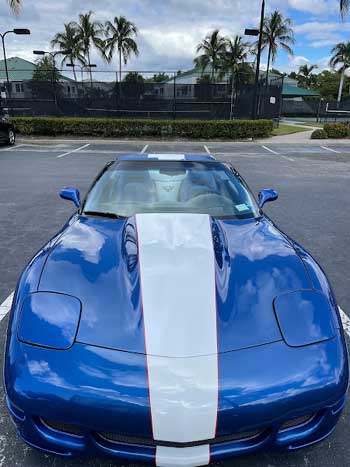 This is in stark contrast to past years where only a small fraction of a production run was still in service after five or six years. It's just a simple function of supply vs. demand. Supply has very high and demand has shifted to the C6 and C7. For the time being the high supply of excellent quality C5's is still a factor that is influencing market prices.

The car we are featuring is an outstanding example of what can be accomplished utilizing the C5 platform. The car is a 2000 C5 convertible that has received some major upgrades to both its body and drivetrain.

The current owner decided that this outstanding piece of rolling art was better suited to the sunny streets of South West Florida versus its original home on Long Island NY.


The car is in outstanding condition and has over $50K invested in upgrades. This C5 is truly a one of a kind show stopper. The mods include some very unique custom body work, custom interior and custom paint.



At the heart of this build is a custom drivetrain that includes a professionally built 427 cube LS7 engine that was installed and custom tuned by the Vette Doctors in Amity NY. To further motivate the 427 the engine was fitted with a 700+hp Lingenfelter LPE turbo kit. This translates into some very mega power output. Upwards of 700 horses can really motivate a 3.100 pound car.

-The internal goodies include:
-Callef crank shaft-Eagle rods, diamond pistons-Ported LS7 heads. -Upgraded fuel system
A custom transmission, upgraded custom coil over suspension and a C6 Z06 brake setup was added to handle the extra power. The car is fitted with a 3:42 rear end and a set of C6 Z06 alloy wheels.

The owner has recently decided to part with this beauty, for more information please check it out on our Corvettes and Classics Marketplace Page.


return to index page